How to use our central login system
We use a central login system which has common password for all our sites. (except MMS). We try to make the login experience just like any other site. The main difference is that you get redirected to our central login website, you enter your username and password, and then you get redirected back to the site you want to log in to.
If you experience problems following the instructions below, please send us a message on our contact form
• How to get a password    • How to log in with your password
1. How to get a password
You need to ask for a password - you can get in touch via mms (best) or contact form
Note: The same login website (and the same password) is used by SriChinmoy.org, SriChinmoyCentre.org, SriChinmoyLibrary.com, RadioSriChinmoy.org, SriChinmoy.tv and our city meditation sites. If you got a password for one of those sites after they started using the central login website, then you don't need to get a new password.
2. Logging in using your new password
On the login page of your site (you can use either www.yoursite.com/user or www.yoursite.com/wp-admin, depending on the system), you will get a message saying that you are being redirected to the login server (note that initially this might quite take a few seconds).
You will then be redirected to our login site (id.vasudevaserver.org) to put in your name and password. Your username will always be the same name you use on MMS.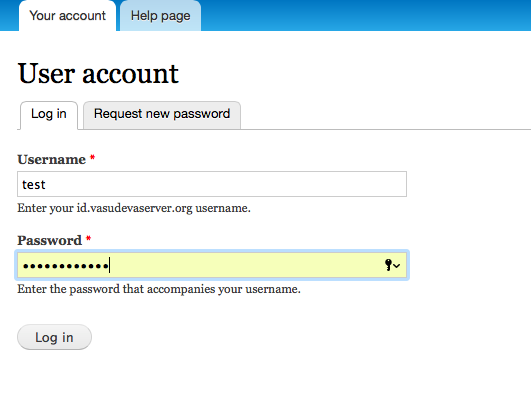 Once you log in successfully for the first time, you will be asked whether you want to always log into this site or just this once. It's safe to select always.
Then you will be logged in and returned to the site where you wish to work.
3. Changing your password
Once logged in, you can visit this site (open in a new tab) and press 'edit' to change your password.
Notes
Very rarely, you might get a 'Server dropped the connection' message when going through the login process. Hitting the 'back' button on your browser and then trying again should fix it.